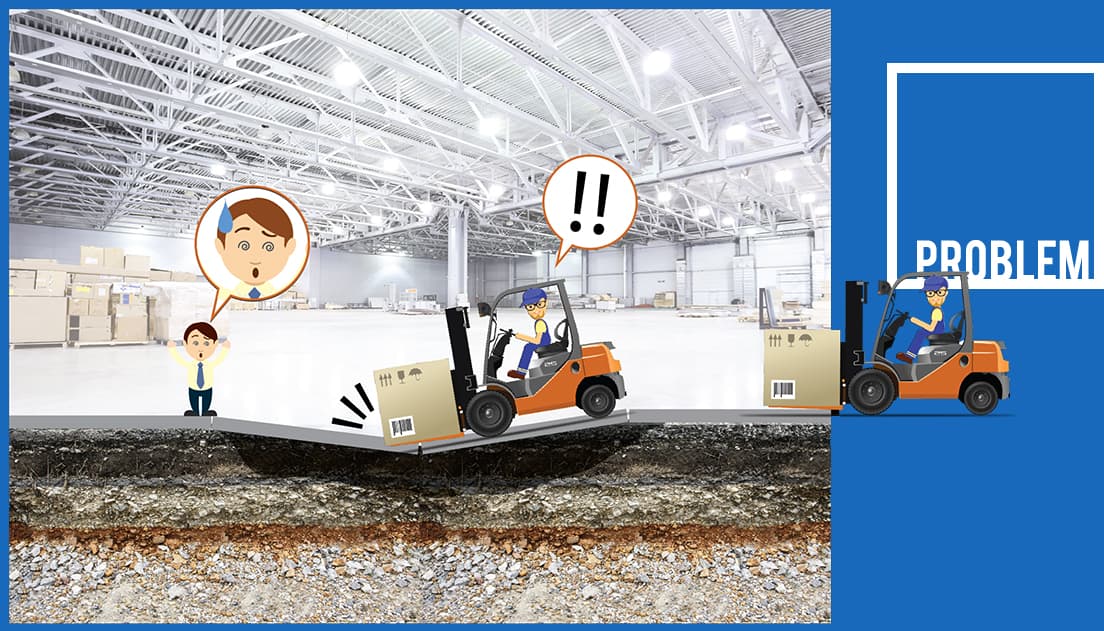 Elevated leveling floors and concrete structures
Concrete floor subsidence issue
Concrete floor subsidence issue has effects towards the flow in the industrial plants including the machine mountings, product and equipment shelves, concrete sheet joints, roads around the factory, and parking lot. J.A.T Ground Expert had gathered staffs with experiences in RESIN elevated concrete floor leveling for more than 10 years in both domestic and international. This substance was grinded the soil layer for more density and elevated leveling the concrete floor for smoothness and restore to the original level.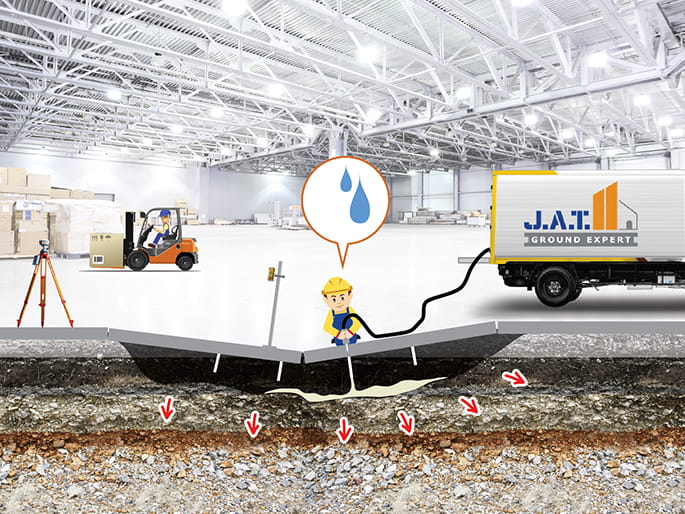 The subsidence of concrete floor maybe caused by the soil grinding process during the construction with insufficient density or water leaks in soil layer that soften the soil layer. Up-Lifting method would grind the low-density soil layer for more density and increase the loading capacity.
Resin
would be injected beneath the concrete floor to fill the void under the concrete floor and grind the soil layer for more density. After the concrete floor was elevated to the original level, it would be inspected by Laser-based measuring machine which is meticulous and accurate. The floor would be elevated and leveled to the specific level with more loading capacity.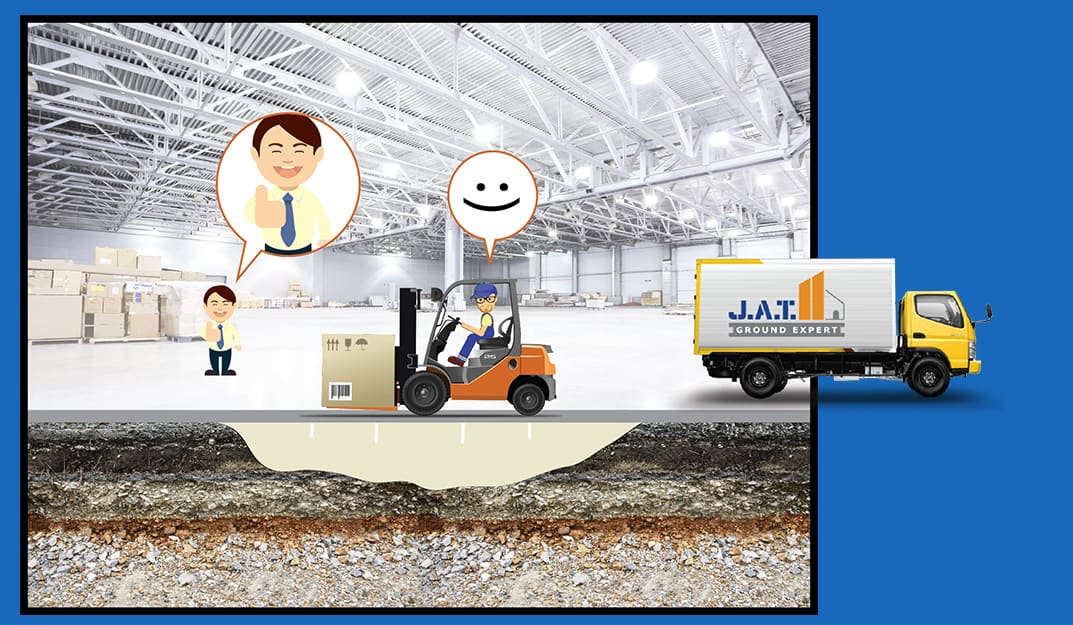 Up-Lifting method of the company will decrease repairing time compared with other repairing methods such as demolishing and
reconstruct and also save the cost of closing the area including the cost of losing production opportunities.
Operation process
1. Drilling 15 mm. holes through the concrete sheet
2. Injecting Resin to fill the void and grind the soil layer
3. Continue injecting Resin to the desired area level that the level is controlled by using Laser-based measuring machine
4. Closing the hole with Non-Shrink Grout
Advantages of Up-Lifting method
1. Save the repairing time
2. Avoid crushing previous floor and decrease dusts in the operation
3. No need to move any object or machine
4. Lifting level is controlled by high-resolution Laser-based measuring machine
5. The area is available to use after finish the repairing immediately
6. Increase area loading capacity
7. The characteristic of Resin that could lift more than 100 tons per square meters
UP LIFTING
UpLifting operation process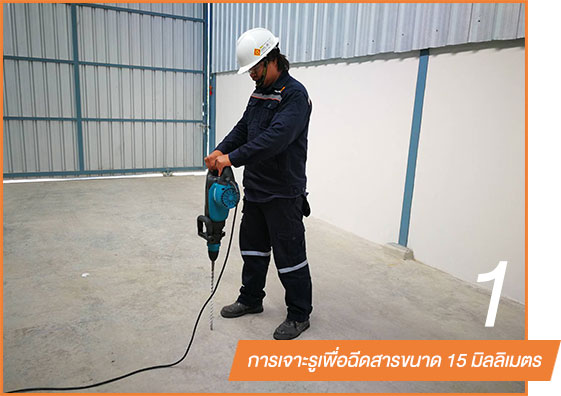 Drilling injection holes for 15 millimeters
Drill the 15 millimeters holes with 1.5 meters distance that the concrete drilling is specify the distance between the holes for 1.5 meters in Up-Lifting area by using small rotary drill to prevent the noise and dust issue. While drilling, the vacuum cleaner is used to decrease the dust spreading and make the working site and nearby area clean.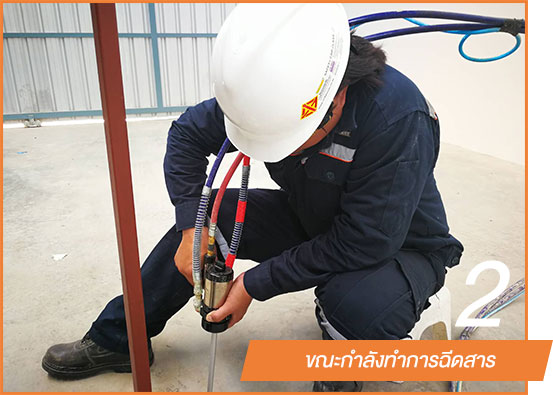 While injecting the substance
The substance injection is performed by small tool which is installed on the container. For the injection, the conveying hose with more than 45 meters length is used for the convenience of closing area and moving the working site.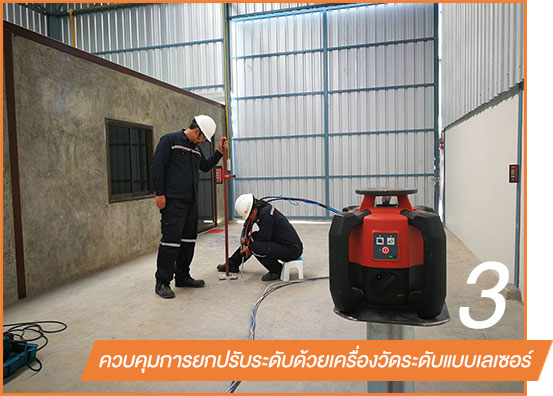 Control the Up-Lifting with Laser-based level measuring machine
For the lifting level control, the staff would inject the substance for the Up-Lifting and measure the area lifting with Laser-based level measuring machine which has the scale up to 0.5 millimeter for the precision in Up-Lifting